The Capitol Police Investigative Team is responsible for properly conducting investigations that occur in the Capitol Complex Improvement District. To meet this responsibility, the team members are trained and experienced investigators and are skilled in a wide array of investigative duties, including Internal Affairs.
The Investigative Team is responsible for processing employment applications and conducting extensive background investigations on all Capitol Police applicants. The Investigative Team also conducts follow-up investigations on all reported criminal activities occurring at the Capitol Complex. Follow-up investigative work may include: the processing of property and/or evidence, identifying and interviewing suspects and witnesses, documenting investigative activity, completing affidavits for search and/or arrest warrants, and presenting evidence and testimony during criminal prosecutions.
Finally, the Investigative Team works closely with other federal, state, and local law enforcement agencies in sharing sensitive law enforcement intelligence information and in providing necessary investigative assistance upon request.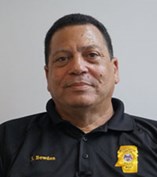 For additional information, please contact Johnnie Bowden at Johnnie.Bowden@dfa.ms.gov.