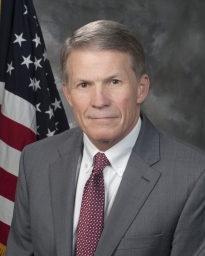 Commissioner Marshall Fisher was appointed by Governor Phil Bryant in February 2017. His service in Mississippi State Government includes his appointment as the Mississippi Department of Corrections Commissioner from 2015 to 2017 and his service as the Executive Director of the Mississippi Bureau of Narcotics from 2005 to 2014. Additionally, Fisher has served as state director for the Mississippi Gulf Coast High Intensity Drug Trafficking Area. Throughout his career, he has coordinated joint operations involving DEA, Mississippi Bureau of Narcotics, Immigration and Customs Enforcement, Federal Bureau of Investigation, Bureau of Alcohol Tobacco and Firearms, Mississippi Bureau of Investigation, Mississippi Highway Patrol, and numerous other federal, state and local law enforcement agencies.

Commissioner Fisher is retired from the U.S. Drug Enforcement Administration (DEA), where he was assigned as Agent in Charge of Mississippi DEA operations. During his tenure with the DEA, Fisher was assigned to field offices in Texas, Kansas, Kentucky and DEA Headquarters in Washington, D.C., where he served as section chief in the Office of Domestic Operations to Europe, Asia, Africa and Canada.

Commissioner Fisher started his career in law enforcement as a police officer in Texas and as a parole agent in Louisiana. He is a U.S. Navy veteran and a graduate of the University of Memphis. He holds a Bachelor of Arts degree in Criminal Justice.